Sat Nav & Speed Cameras
The amount of speed cameras around these days and the positioning of them means that in spite of the government and police assertions that they are there for road safety, we all know it's about revenue generation.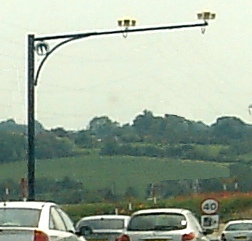 The motorist is a soft target. And because every speed camera conviction also adds points to your licence as well as a fine, you could find yourself minus that licence very quickly unless you have your wits about you


The recent addition of the Specs camera systems (pictured left) on our roads means that it's not just the familiar Gatso camera you have to keep an eye out for. Specs cameras are used primarily on motorways in controlled situations such as roadworks. The are placed at intervals over a set distance and photgraph the number plate of every vehicle that passes them. Further cameras then photograph the plate at various points along the stretch of road and measure the time it takes you to get from one to the other and then calculate the average speed of your vehicle between the cameras. Very sneaky.

Keep your eye out for them. They are usually accompanied with a sign saying something like "Average Speed Check".



You may be considering getting some kind of speed camera warning device. We asked our members which one they would recommend and the most popular all round system was the TomTom GO. Apart from it's versatility as a Satellite Navigation system, with it's 3D depiction of the road ahead of you, backed up with clear and concise spoken directions to back it up, it really becomes an indispensable device when you add a speed camera database so that you are warned of up and coming cameras and reminded of the speed limit in force at the time. You really will wonder how you ever lived without one.
When you buy a TomTom Go system it usually comes with at least one months free subscription to their speed camera database, after which you need to subscribe for a year if you want to keep up to date with any new cameras that are erected. Whilst the TomTom GO database is very good it gives an audible beep whenever you approach a camera, which can become a little annoying. Furthermore it doesn't tell you what type of camera to expect. You may want to try the Pocket GPS World Speed Camera Database instead. Hailed by many as being more accurate and up to date than the TomTom GO database (and favoured by off duty police officers allegedly), it's also available for all other major satnav and GPS systems. It has the advantage of warning you what type of camera is ahead of you. It features known mobile speed camera locations too. Also downloadable at Pocket GPS World is a voice add on that will give you spoken alerts for speed camera locations. You can get the voice prompt package here. The installation of the database and the voice alerts can appear a little daunting but it's worth persevering and there is help available on their forum.
Please take a look at our Which TomTom guide to see the differences between the various models in the range. If you already have a TomTom GO you might be interested in our LSOC TomTom Splash Screen Wallpaper to replace the less than thrilling start up screens that come with the various models.

Unfortunately the TomTom GO systems are unable to warn you about police laser speed traps and our members recommend trying the Road Angel systems if you are wanting to get some warning of laser detection. However you should be aware that it seems quite likely that in order for these systems to detect a signal the laser gun needs to be pointed at you and operational at the time. And of course by then it's too late.

There is a chance that you may be lucky enough to detect a device being pointed at a vehicle in front of you, but you must appreciate that the success rate of such devices can never be 100%.